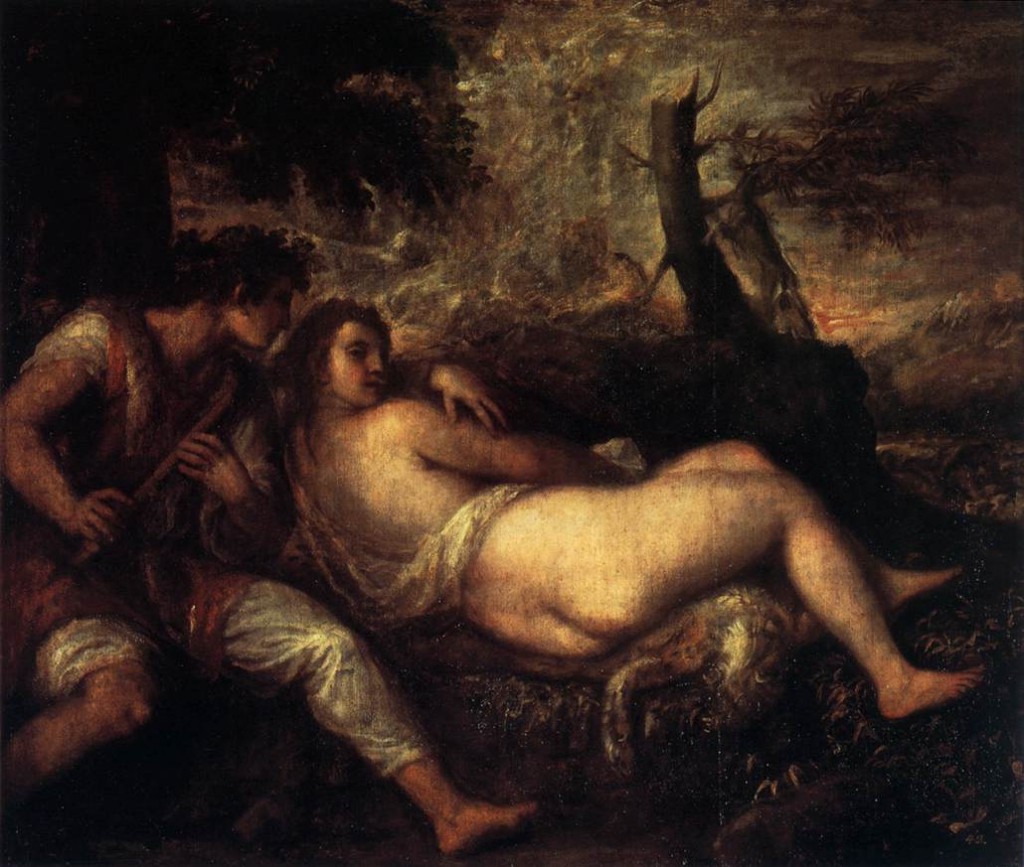 Titian, Nymph and Shepherd, c.1570/75. Kunsthistorisches Museum, Vienna. Oil on canvas, 149,6 x 187 cm.
I just came home from Austria where I visited Kunsthistorisches Museum who has the most exclusive collection on the continent. Full of what the Habsburgs loved, the mature style; Venetian and Flemish paintings from the 16th and 17th centuries. The cream from Titian, Dürer, Van Dyck, Vermeer is to mention some of the treasures in this building that looks like a wedding cake from the inside, protected by a masculine facade.
When you enter KHM we humans go through the little door in the corner of the large door (where I suppose the giants enter?). It makes you feel that something important is waiting for you inside.
Titian, my favourite painter, is represented not only one, but twenty times on the velvet red wall carpet. The ceiling in the Titian room reaches at least eight meters and the floor creaks, especially under the painting called Nymph and Shepherd. A sign that not only me, but also thousands of admirers have stopped right here.
Nymph and Shepherd is one of Titian's late paintings which means it's roughly painted and it's not commissioned. It may be from the mythological theme, but this is less important since the sensation of the paintings derives from the use of colours (or rather the lack of colour) and the way the lines are floating between the shapes. The shadow and the light are exaggerated so that there is not only close to nature, but also beyond nature. Talking from a painters view, this teqnique is something one achieves after decenniums, when you have painted for years the correct, nature-alike paintings. When you have learned how to swing your brush elegantly you can do as Titian; using his fingers when the brush has done its work and putting up to 20 layers of transparent paint.
Standing on the other side of the room you can see the composition is limping. This is because the canvas format once where larger, so that the figures had more space around them. Despite this the painting is pointing out with its coolness and sensibility. Comparison is something Odd Nerdrum has taught me and it's obvious that the Nymph and Shepherd is the winner. Finding it hard to secede with Titian I have to leave the KHM to go to  a wedding, but first,  for comfort, I find myself in the room just beside–the Café with Apfelstrudel and Café.