Eugen touching my painting
At the end of the year I see the kitsch-atmosphere sneaking in every door. The sentimental sound in your voice saying "Happy Christmas" thinking of the big, read pulsating heart called Christmas. It's coming again and again…
Jussi Bjørlings, "O Helga Natt" sends you directly to your tender feelings, which can only be compared with lovesickness. Even the modern curator in the white newspaper is in between her cold critics planning her Christmas-eve steak and puts up her outdoor- illumination just to make "a little" warm atmosphere.
Especially in a protestantic country, which I happen to live in; people attend church, they seek after sentimental church concerts so that they can sing; open their heart. To Jesus? No, under the cover for singing loud, "Deilig er jorden" and even fell a tear. I write this without irony. There are small chances for these kitsch-seeking souls to open up their hearts in other seasons. The symbols are so appealing both in colour and shape. Putting together red and green is the most complimentary contrast according to Goethe's colour theory. It flirts with your eye and grabs your attention. Yes, I use it myself (even outside the Christmas season).
The story about the young woman giving birth to her son amongst some animals and candlelight made my chin wet last Christmas. Sitting in the cross-shaped Oslo Domkirke, eight months pregnant listening to this story accompanied with a boys choir with 50 sopranos just filled up the kitsch-glass. The popular story is always present. Its always kitsch.
The country I live in, winterwonderland, enters its esthetical peak moment when the long shaped land is covered with white powder as if it's the highway to the North Pole.When the first snow is falling from the sky, it's magical. The soft shapes that appear when covering the nature within an hour is just like putting a layer over a painting to soften it.
Angels are falling from the sky…don't ask any questions just enchant yourself with the unrationel idea. A beautiful kitsch motif.
Where to place the angel is more problematic today than for Caravaggio in 1602 his "The Inspiration of Saint Matthew." No one asks questions when bringing a tree into the living room. It must of course have decoration on. Big, golden bulbs, sweets- ready to eat directly from the branches, handmade miniatures of horses and saints. Everything that excite your senses.
When wrapping up Christmas you get Kitsch.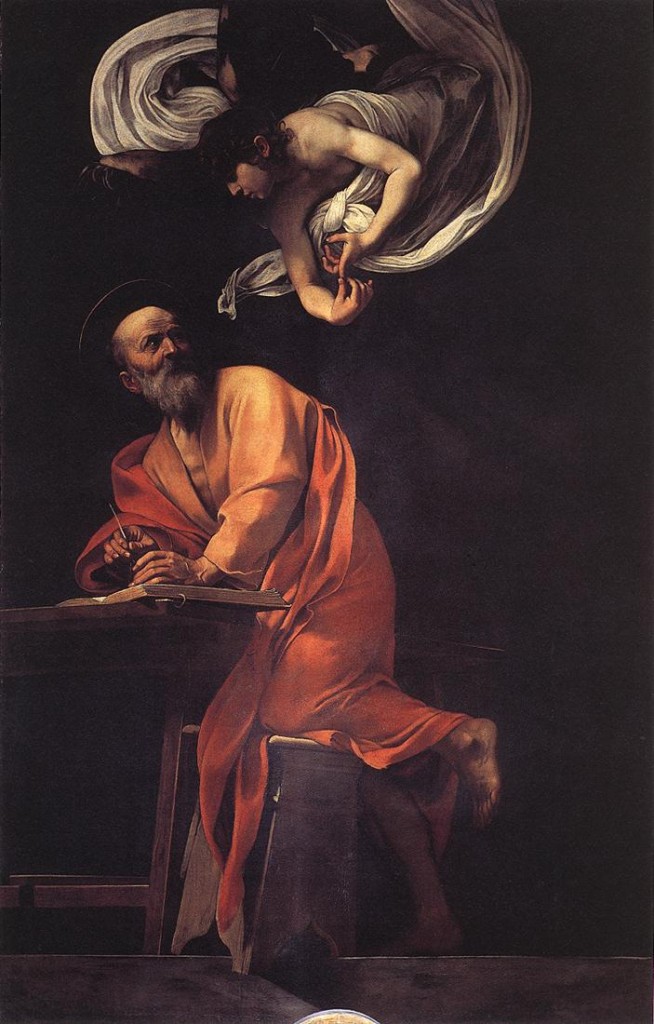 Caravaggio, The Inspiration of Saint Matthew, 1602. Contarelli Chapel, San Luigi dei Francesi, Rome. Oil on canvas, 292 x 186 cm.