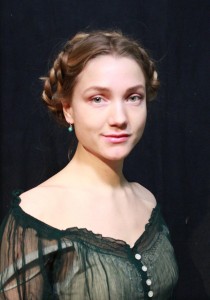 Helene Knoop (b. 1979, in Drøbak, Norway) is one of Norway's foremost figurative painters. She lives and works outside Oslo. Knoop paints her persons and characters with pathos, poetry, drama and sincerity—all communicated through the mastery of craft.
From 2000 to 2003 she studied with Odd Nerdrum-the world-renowned figurative painter. Since she left her masters studio she has continued to refine her skill, and she has developed her focus on the human figure by studying ancient sculpture in Italy. Knoop always paints from a live model, and she paints the Nordic landscape in plein air.
Knoop has had several successful solo exhibitions, including shows in London, Stockholm, and New York. She has also participated in group shows. A few of these include: Palazzo Cini 2010, Åmells, London 2005, Edsvik Konsthall 2009, Krapperud Konsthall 2009, Passinger Fabrik 2008, Haus der Kunst 2005, Solli Brug 2004, Haugar Vestfold Kunstmuseum 2002. Knoop's paintings are represented in collections in Norway, Sweden, Denmark, England, Italy, Nicaragua, and the U.S.A.