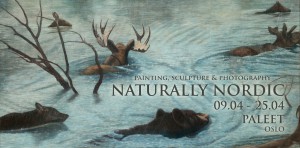 New works at the exhibition Naturally Nordic at Paleet Karl Johan, Oslo, Norway.
Welcome to the Champagne opening at
6 pm, Thursday April 9
Paintings by Helene Knoop, Christer Karlstad, and Marius Moe.
Sculptures by Åse Nordanger.
Photographs by Per Heimly and Erlend Mikael Sæverud.
The exhibition is open from April 9 – April 25.
See also Paleets webpage.